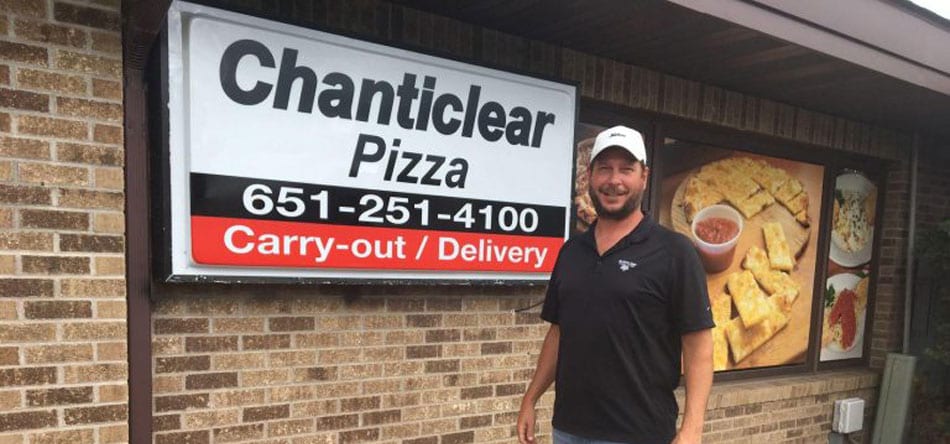 Chanticlear Pizza: Our Story
The Early Days of Chanticlear
Chanticlear Pizza has served the Twin Cities Best Pizza for almost 60 years!
We started with a single pizzeria in Fridley, Minnesota, in 1964. Chanticlear Pizza currently has 13 locations, and we're growing.
Richard "Dick" Kempe established the Chanticlear Pizza brand. He had the vision to see, long before the days of a pizza shop on every corner, that pizza was the food of the future. Dick believed in one fundamental concept: The Pizza Is King.
Every decision he made regarding ingredients or processes had to pass a strict test. The test was simple: Will this choice make our pizza better?
Dick Kempe laid the foundation for quality still associated with Chanticlear Pizza almost 60 years later.
Passing the Torch at Chanticlear Pizza
Like anything that has been around for well over half a century, Chanticlear Pizza has had its ups and downs. By the early 1990s, Dick was burnt out in the pizza business, and the number of operating Chanticlear Pizza restaurants was down to just one.
This is where I came in. My name is Dale Heille, and I started working at Chanticlear Pizza as a sophomore in high school in 1985. The business was a natural fit for me as the busy pace ideally suited my hyperactive personality. I stayed in the pizza business with Chanticlear until 1990, when the largest pizza chain in the world recruited me.
I went on to manage several stores for this chain but always maintained my relationship with Dick Kempe. He was my mentor, after all, and I couldn't help but notice that while Dick always said, "The pizza is king," this hugely successful chain had anything but quality pizza. It seemed as though they based their decisions on profit alone and how they could make the pizza cheaper and more efficiently.
I couldn't sell pizza I no longer believed in and decided to move on. I approached Dick about buying the Chanticlear Pizza brand, and we soon struck up a deal. In 1995 I purchased Chanticlear Pizza from Dick Kempe. The agreement required I continue his legacy of insisting on quality at every turn.
Quality: What it Means at Chanticlear Pizza
Promoting quality is a trick practiced by many pizza chains that are focused more on marketing than on producing quality pizza.
At Chanticlear Pizza, quality is not a trick. It is the single focus of every decision we make. Almost 60 years after it all began, we still mix the dough in our stores daily using the best flour available. This is not the norm in these days of frozen dough and pre-made crusts, but making dough from scratch is a standard we will not back down from.
Our sauce is made from vine-ripened tomatoes that go from field to pack in less than 12 hours to maximize the natural flavors. We rely on the natural sugars produced in a tomato ripened on the vine instead of on a truck, so we do not add additional sugars. Although the recipe remains the same, our process for producing our signature sauce has undergone one significant change. We have our manufacturer add our proprietary spices during the packing process to ensure consistency and allow the ingredients ample time to "get to know each other."
The recipe for our Chanticlear original Italian sausage is proprietary and has been for 50 years. Our original Italian sausage is still applied uncooked, and hand pinched onto the pizza. We refuse to add fillers to cheapen the product or have the product pre-cooked to save time. We insist on this labor-intensive method because applying the sausage un-cooked allows the meat to release its natural juices and flavor into the rest of the pizza.
We continue to chop fresh vegetables daily in our stores. Our canned vegetables are chosen because of flavor, not price. We pay more because you can't beat the taste of an imported Spanish green olive or our domestically produced canned mushrooms. We insist on Dole pineapple because it is the best but certainly not the cheapest.
Any story about our quality would not be complete if we didn't mention that we use only 100% REAL Wisconsin mozzarella. We shred our mozzarella cheese daily in our stores from carefully aged loaves that have never been frozen. There is no comparison between the quality of cheese we use and the cheese the major chains sprinkle on their pizzas!
Chanticlear Pizza: Our Recipe for Success
It turns out that our customers approve of our business model. The Pizza Is King at Chanticlear, and our pizza kingdom has grown from that single store in 1995 to 13 today, with more on the way. It usually costs a buck or two more to order Chanticlear, but it is plain to see that we earn it.
Our commitment is to continue to use the finest ingredients available to keep Chanticlear Pizza out in front in quality and to deliver that famous flavor that our customers crave!
Dale Heille
CEO/President
Chanticlear Franchise System
X
$5

Off a Large Pizza

Sign up for our "Chanti Club" email to get $5 off a large pizza and specials every month.