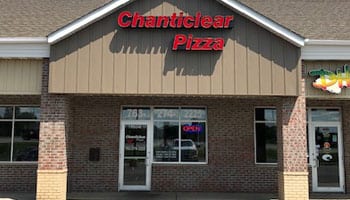 Chanticlear Pizza
Elk River, MN
We're currently open.We close at 10:00 pm
| | |
| --- | --- |
| Sunday | 11:00 am – 10:00 pm |
| Monday | 4:00 pm – 10:00 pm |
| Tuesday | 4:00 pm – 10:00 pm |
| Wednesday | 4:00 pm – 10:00 pm |
| Thursday | 4:00 pm – 10:00 pm |
| Friday | 11:00 am – 10:00 pm |
| Saturday | 11:00 am – 10:00 pm |
19246 Evans St. NW
Elk River, MN 55330
Get Directions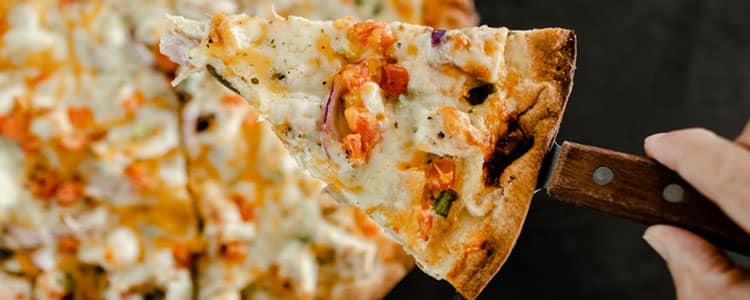 Elk River: Welcome to Chanticlear Pizza
Alert: Chanticlear Pizza in Elk River is now hiring drivers. Please stop by today to fill out an application.
Elk River: Chanticlear Pizza has been Serving The Twin Cities Best Thin Crust Pizza for Nearly 60 Years!
Chanticlear Pizza is an original Twin Cities pizzeria! There is no other like it.
Like many small, family-owned businesses, we started with a single location. That was back in 1964. Chanticlear Pizza was delivering fresh, stone-baked, thin-crust pizza before any of the prominent chain pizza places came to town. Since then, we've expanded our renowned crust options and the number of locations, including Elk River.
Elk River: Check out Splashed, Chanticlear's Pizza Flavor Enhancer
Add a Splash of our Premium Blend Sauce to further enhance your favorite Chanticlear Pizza. 
Choose from: Asiago Garlic, BBQ Sass, Kickin' Bourbon Molasses, Mild Fire, Señor Salsa, Sweet Heat, or Jalapeno Ranch.
It's in the Details at Chanticlear Elk River
Every day at our Chanticlear Pizza Elk River location, we start with fresh dough made in-house daily. It's allowed to slowly and naturally rise. We never freeze our dough or truck it in from a factory. Our crispy thin crust — and all our other crust options — result from dough that has been carefully handled and stone baked to perfection.
As a next step, we add our secret recipe pizza sauce made from all-natural ingredients. The most important is fresh California tomatoes. At Chanticlear Pizza, we don't need to add sugar to our sauce. Our sauce is packed with tomatoes that have reached vine-ripened perfection to capture the essence of sweet garden flavor.
Chanticlear Elk River offers more than 20 premium traditional and non-traditional toppings, including:
Italian sausage

Pepperoni

Olives

Onions

Green peppers

Garlic chicken breast

Celery

Pickles

Banana peppers

Slides sausage

Baby shrimp

Hardwood smoked bacon

And more!
At Chanticlear Elk River, we use these unique ingredients in combinations that will make your mouth water — and that make our pizza different from all others.
Don't take it from us! Check out all the pizza and other food options available at our Elk River location.
Get directions to Chanticlear Pizza Elk River.
X
$5

Off a Large Pizza

Sign up for our "Chanti Club" email to get $5 off a large pizza and specials every month.